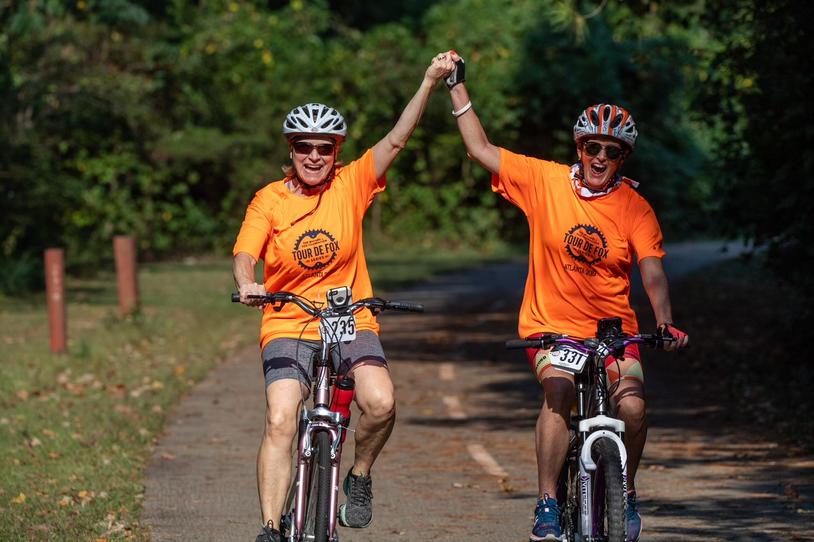 As The Michael J. Fox Foundation prepares to kick off the Virtual Tour de Fox on Saturday, August 28, we reflect on the evolution of this worldwide cycling event. Whether you're new to the Tour or you've been on the ride since the beginning, test your knowledge and get ready to be inspired!
The tradition began in 2015 with an epic coast-to-coast journey led by former Michael J. Fox Foundation staffer Sam Fox (no relation to Michael J. Fox). The 2015 Tour de Fox covered 14,000 miles from Maine to Vancouver, passing through all 48 of the contiguous United States and summiting each of their highest peaks. Along the way, the Tour connected thousands of members of the Parkinson's community and raised $2.5 million for high-impact research.
In 2016, the wheels continued to turn with a new version of the original Tour de Fox. Building on the momentum of the largest standalone event from the 2015 Tour — the Wine Country ride, which attracted over 500 riders and raised nearly $500,000 — MJFF decided to host a collection of cycling events across the U.S. and Canada. With the Great Lakes ride in Cleveland, Ohio, the Pacific Northwest ride in Vancouver, British Columbia, and the Wine Country ride in Santa Rosa, California, the Tour de Fox Cycling Series was born.
Between 2017 and 2019 the Tour continued to lay tracks in new cities, including Madison, New Jersey, Greenville, South Carolina, and Atlanta, Georgia, and revisited popular ride locations. With newcomers joining and returning teams leading the charge (like the Wine Country ride's Team Driscoll), the series grew.
In 2020, forced to reimagine our Cycling Series due to COVID-19, MJFF transformed our in-person events into a collective virtual ride that united Tour communities everywhere. Not only did 884 cyclists participate — 597 of which were first-time Tour de Fox riders — cyclists from as far as Australia and Germany geared up across the world. (Check out our four-part blog series featuring 2020 Tour de Fox cyclists: The Fundraising Pro, Kathe Friel, The Veteran, Len Grant, The First-Timers, Team Bell, The Family Cheerleader, Maggie Rowland Wortendyke.)
After the success of our first ride-from-anywhere event, our Virtual Tour de Fox ride is back and already gaining traction. Once again, riders of all ages and speeds are invited to sign up to help pedal closer to a cure. Whether you create your own course in your neighborhood or hop on your stationary bike, every mile counts, with 100 percent of all proceeds going directly to Parkinson's research.
In addition, on July 23, MJFF announced a $20,000 match from a generous donor whose husband currently lives with Parkinson's and whose father lived with Parkinson's. Between now and August 28, all Tour de Fox registration fees and donations will be doubled, until the $20,000 match is met. Don't delay, click here to sign up to ride.
If you have any questions, please email tourdefox@michaeljfox.org.
For more inspiration, read about the Rowland family's incredible Tour de Fox impact and their plans for 2021.